THE SLUMBER PARTY HEIST
When it comes to sleepovers, we take it to a whole new level. With our meticulously hand-crafted tents and luxurious amenities, we create enchanting setups that will leave your guests in awe. The next morning, we return to seamlessly make everything disappear, as if it were all just a dream. With our extensive inventory and customizable themes, the possibilities are truly endless. Looking for a unique and one-of-a-kind sleepover experience? Look no further, as we are the experts in bringing magical sleepovers to life. With over three years of experience and hundreds of unforgettable sleepovers under our belt, you can trust us to deliver an exceptional and memorable experience for you and your guests.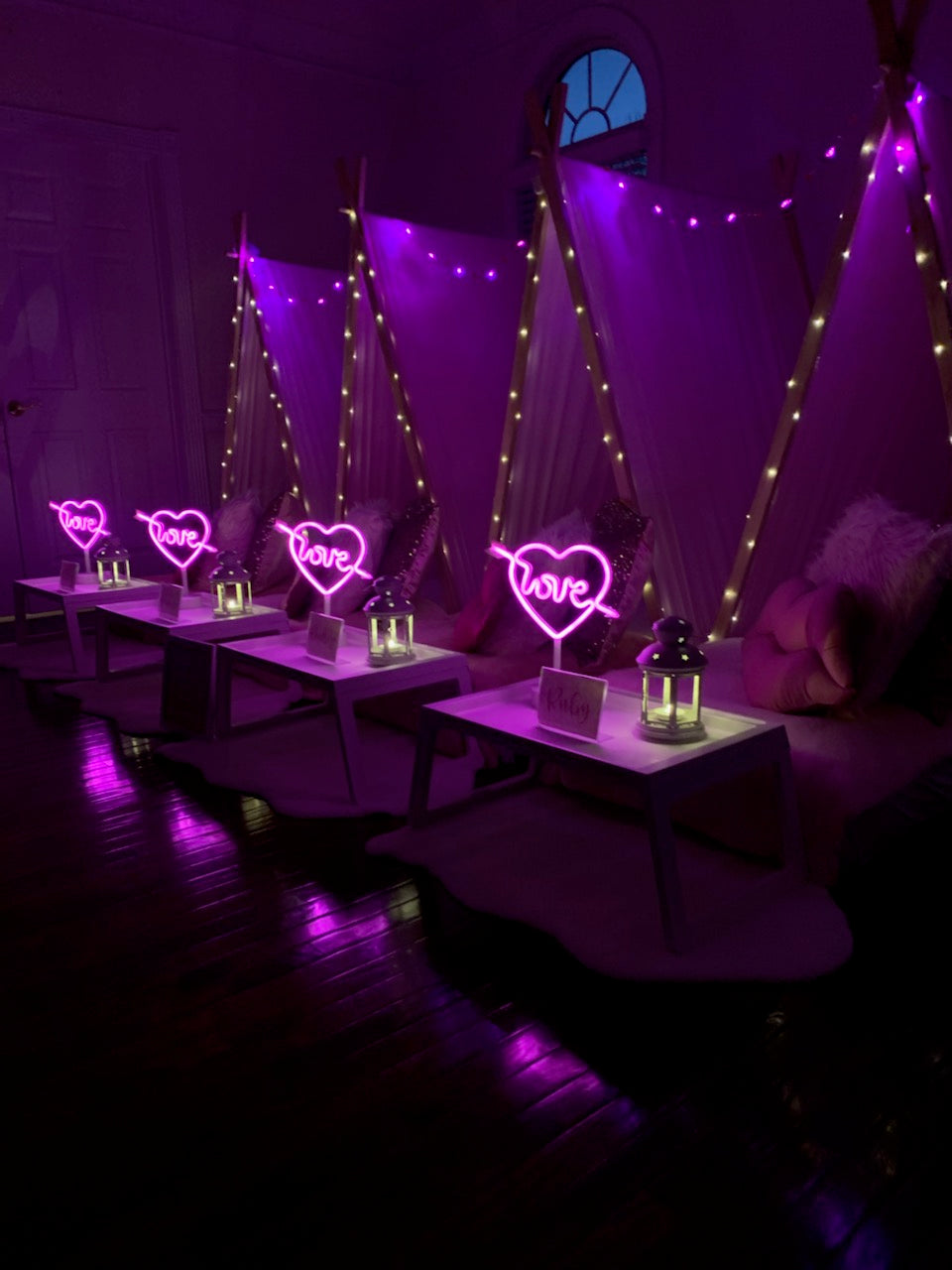 Availability
NOW BOOKING FOR OCTOBER - 2024.
Click the link below to reserve your sleepover. Serious inquiries only please. Due to high demand, all sleepover proposals will expire within 48 hours after they are issued. If you would like more information prior to requesting a booking (more details are also listed below), please email us at info@thepartyheist.com
Proposals are sent via email. Please check your spam folders for our response.
SLEEPOVER BOOKING FORM
THEMES (not all pictured)
Preppy

Minecraft

Experience an exhilarating and imaginative Minecraft-themed sleepover! Transform your sleepover area into a vibrant Minecraft world. Dive into an unforgettable night of gaming, creativity, and fun with friends!

Troop Beverly

Super Mario

Little Mermaids

Sweet Dreams

Bohemian Dreams

A girly floral and bohemian themed sleepover. Guests can enjoy activities like flower crown or dreamcatcher making, flower-themed crafts, and perhaps even a mini garden tea party with floral-infused treats. It's a dreamy and whimsical night of bonding and creativity in a beautifully floral setting.

Barbie Classic

A Barbie sleepover is a dream come true for fans of the iconic doll. Transform your space into a pink paradise with Barbie-themed decorations, from pink balloons to Barbie posters. Activities could include a Barbie fashion show, where guests dress up like their favorite dolls, a DIY accessory-making station, and watching Barbie movies. Snacks should be pink and playful, like cotton candy, pink lemonade, and cupcakes adorned with Barbie toppers. Encourage guests to bring their Barbie dolls for a night of imaginative play, and make sure everyone has cute pajamas to complete the Barbie-inspired sleepover experience.

Modern Barbie

Unicorns

Pink Paris

Purple Paris

Rainbow Dreamer

Pokemon

Gamer Girl

Baby Yoda

TikTok

Winter Slumberland

Grinchmas (Holiday)

Tent colors can be changed.

New Years Eve (Holiday)

Galentine's (Holiday)

Pop Star

Coming soon for all the Swiftie fans!

Storm Cloud

Wednesday Addams inspired theme. Coming soon!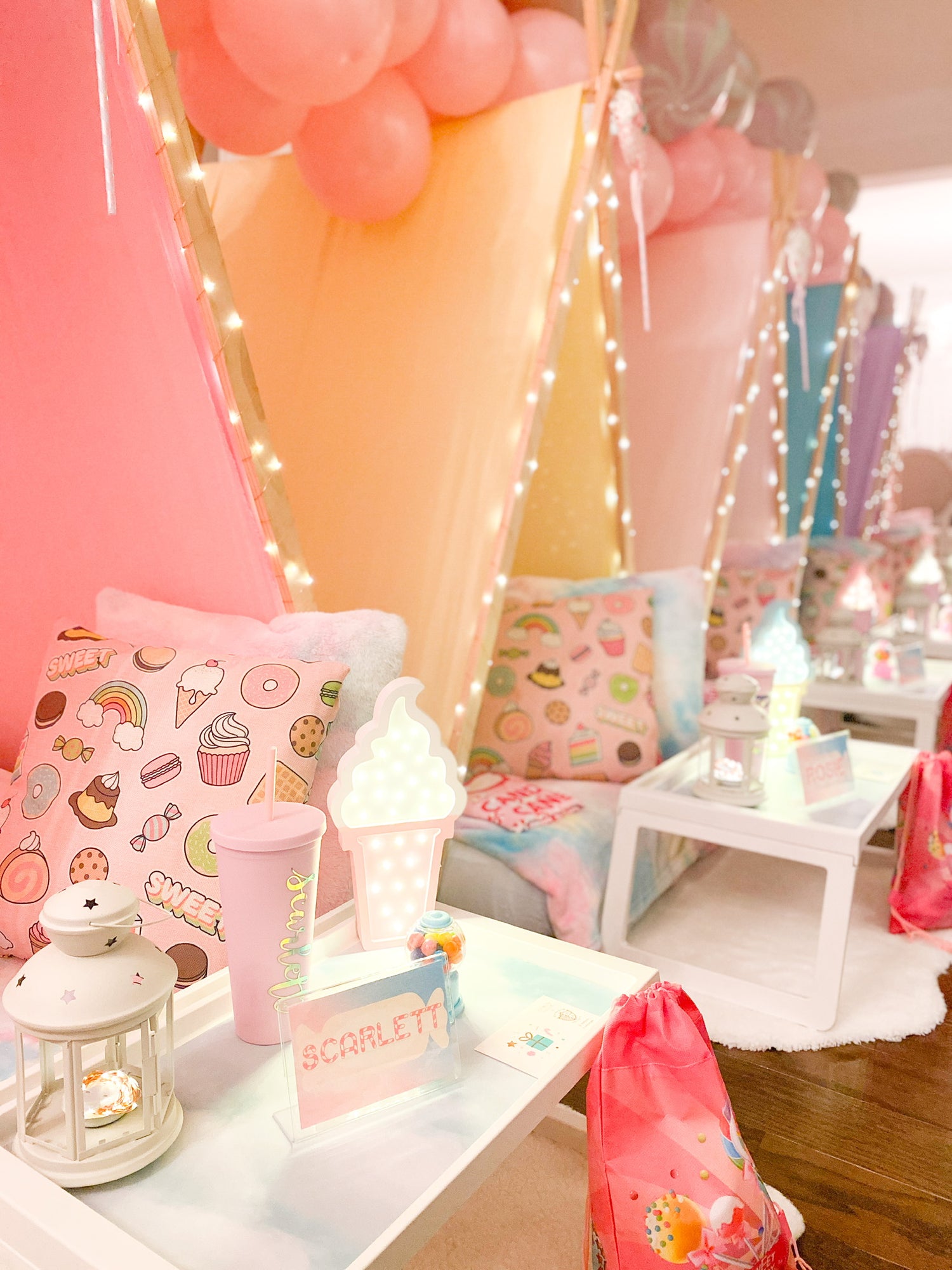 INVESTMENT
3 - 5 tents - starting at $600
6 - 8 tents - starting at $800
9 - 11 tents - starting at $1000
Each additional tent over 11 is $50. 
No delivery fee for New Castle County.
An additional travel fee x 2 round trips (setup and breakdown) applies for areas outside of New Castle County.
Expedite fees may apply for late bookings (less than two weeks notice).
Balloons are not included but are available as an add-on starting at $20 per foot. 
Each tent requires 2.5 ft in width and 8 ft in length.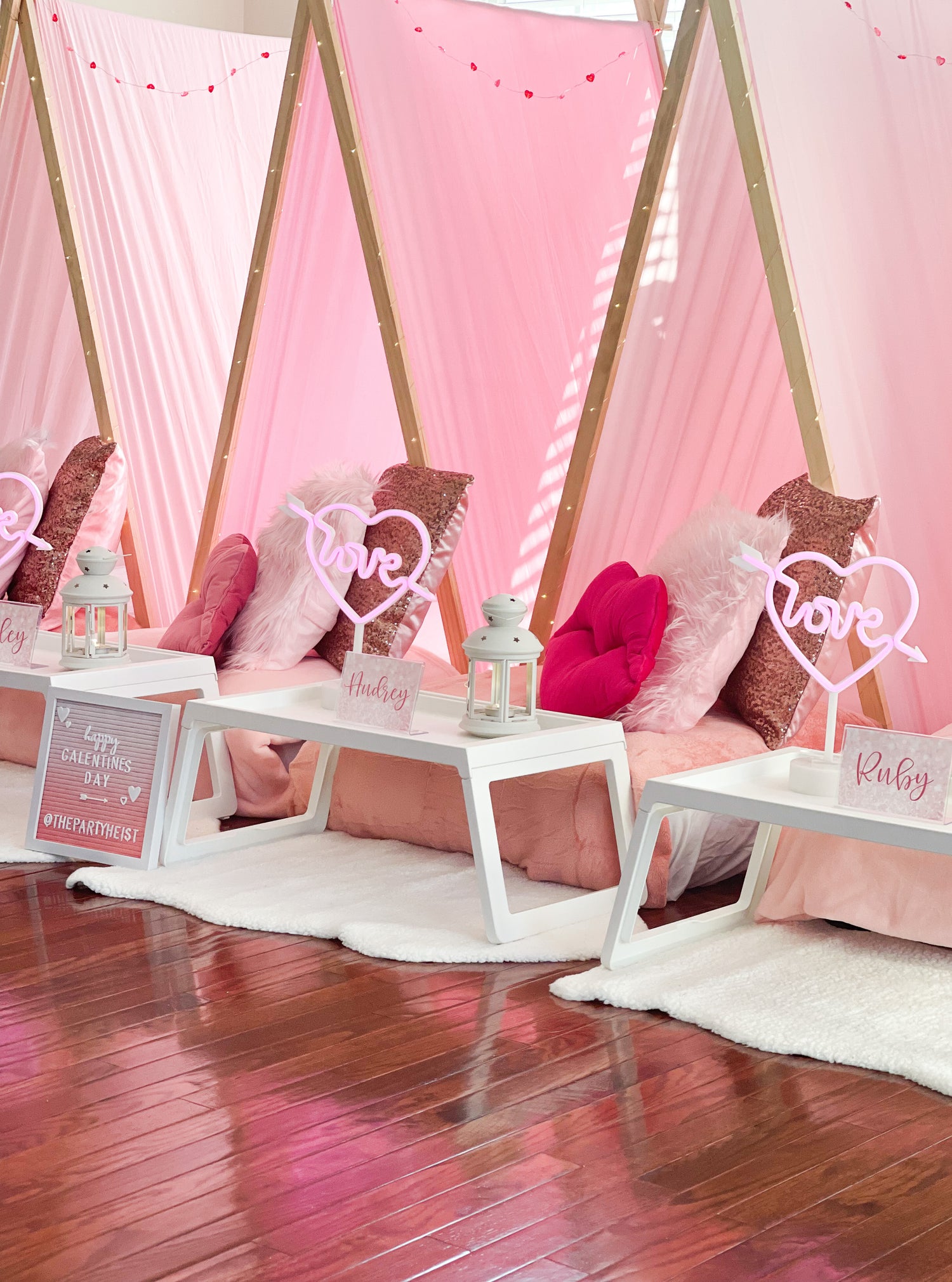 HOW IT WORKS
STEP ONE: When you are absolutely certain that you are ready to reserve an enchanting sleepover experience, please take a moment to complete the booking form below.
STEP TWO: We'll shoot you an email (don't forget to check your spam folder!) with a proposal based on the choices you made. We can hash out all the nitty-gritty details, throw in some cool extras, and once we've crossed all the T's and dotted all the I's, you can seal the deal by signing the contract and making the full payment to secure your special day (we've got payment options).
STEP THREE: Our team will begin the process of crafting and developing an impeccable slumber party experience.
STEP FOUR: Please ensure that any modifications to the final headcount and accomplice (guests) names are verified within a two-week period prior to your event.
STEP FIVE: The Heist crew will arrive to set up your slumber party.
STEP SIX: Your party crew will have a fantastic time crafting cherished memories, giggling with joy, indulging in delicious treats, and daydreaming in their own enchanting tents!
STEP SEVEN: Like true professionals, the Heist Crew swoops in to erase any trace of their misdeeds.
EXPEDITED BOOKINGS ARE SUBJECT TO A RUSH FEE. REQUESTS SUBMITTED AFTER THE FINAL PAYMENT DATE, WILL BE SUBJECT TO ADDITIONAL FEES. AVAILABILITY IS NOT GUARANTEED.
DELIVERY AND SETUP
WHAT'S INCLUDED

Each tent rental includes:

Handcrafted A-frame tent
Mattress
Fitted sheet
Blanket
Decorative pillows* 
Breakfast tray
Lantern (battery operated)
Tent Lighting (battery operated)
Rug
Themed Decor
Custom Name Frame
Party Favor (take home)

*Each guest must provide their own sleeping pillow for hygiene purposes. Cleanup fees will apply if decorative pillows are used for sleeping.

Experience the luxury of professionally laundered linens, tent covers, and pillow coverings. Our commitment to cleanliness extends to all accessories, which are thoroughly sanitized for your peace of mind.

THE HEIST AND THE GETAWAY

The average setup time can range from 1.5 to 3 hours. Breakdowns typically take anywhere from 30 minutes to 1.5 hours. Keep in mind that these times may vary based on the size of the group and any event enhancements.

Ensure that the designated setup area is prepared and free from any furniture or debris.

During the setup and breakdown process, our crew will handle and install heavy equipment. For safety reasons, we kindly request that you keep all children, party guests, and pets away from the setup area.

All cleanups will occur on Sundays (unless otherwise noted or requested).

Prior to our arrival, please clear the tents and the surrounding area of any personal items, spills, or trash.